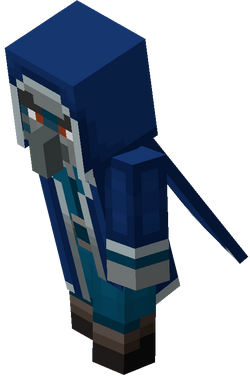 Iceolegers were a type of Hostile Mob that was proposed to appear in the video game Minecraft. In 2020, Mojang held a contest where people could vote on a new type of mob to be added to the game: Mooblooms, Iceolegers, or Glow Squids.
Iceolegers would have been a variant of Illagers that would be found on mountains or in snow biomes. Iceolegers would attack the player by magically summoning ice blocks over their heads to drop on them.

To Vote for the next Villain for Headline, go to Unpublished Villains Wiki:VFH

---
The Unpublished Villains Wiki is associated and affiliated with other Wikis that deal with villains and evil. Links to the following partner Wikis can be found here, so go and give them a look as well!

We are currently housing
207
articles, and
615
files.
We need YOU to help us expand and add articles to this wiki!

For starters, please sign up to create a FREE personal account, or log in if you already have one, and review our editing rules.

Before contributing, please look at some of our other pages or go here to discover the correct format and style to make your page.
---
---
If you're new to Wikia, please use the above links to get started.
If you already have editing experience, and you want to contribute an article about a song, use the box below to create it: <createbox>width=30</createbox>

---

---
Hello and welcome to the Unpublished Villains Wiki! This site is dedicated to letting the world know of villains that didn't make it to the final project. This includes villains from scripts/drafts/ideas that never got published, as well original versions of villains/other characters before their final project. This wiki is not limited to including only unpublished villains that never made it on screen/page, but also those who were published in a different form of media compared to the final project-be it a comic book adaption or a behind the scenes alternate ending. We want the world to know these guys exist so come on and help edit!

For more information about how you can get started here, please check the "Help and Contribute" section below, and be sure to mind our rules. All are welcome to contribute so long as their edits are constructive and positive!